Toronto's Favourite Block Party is Back!
Torontonians invited to join Priyanka, winner of Canada's Drag Race, and musical duo The Illustrious Blacks for The Bentway Block Party's return on August 14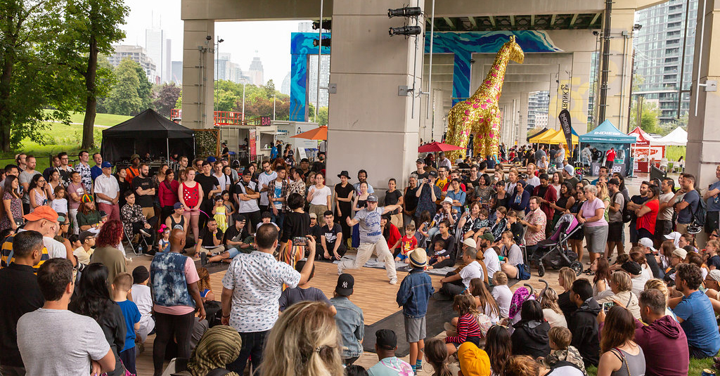 July 21, 2022 [Toronto/Tkaronto, ON] –  Today, The Bentway announced the return of their Block Party on Sunday, August 14. After a two-year hiatus, the day-long celebratory street party is back with a jam-packed day filled with musical performances, family-friendly activities and workshops, food and drink, fashion, drag, dancing, face painting, and more. The free event will run from noon to 10pm at The Bentway, under-the-Gardiner at 250 Fort York Blvd, helping close out The Bentway's summer season.
The Bentway is excited to announce that headlining this year's Block Party are acclaimed New York City musical duo, The Illustrious Blacks, along with Canada's Drag Race Winner-turned-Pop Star, Priyanka, performing songs from Taste Test, her smash EP with 10million+ streams. Both performances will be appearing live on The PrEP Clinic Stage. The Party will also be hosted by drag star Bombae, current contestant on Canada's Drag Race Season 3. 
Party-goers will enjoy energetic performances throughout the day, from sign spinning to fashion to dance:
AArrow Sign Spinners transform street advertising into sports and entertainment with their jaw-dropping moves;
Toronto Kiki Ballroom Alliance will light up the dancefloor with a fierce performance featuring Toronto's Ballroom Legends;
DJ sets by Valeroo, Ace Dillinger, and John Caffery - curated with Yohomo (Toronto's online hub dedicated to the arts, culture, and nightlife of our city's beautiful LGBTQ2+ community) - will get the crowd moving.
For anyone looking to get in touch with their artistic side, join a family-friendly Street Fashion Workshop led by acclaimed Toronto designer Meesh, co-presented with Fashion Art Toronto. Guests are invited to bring their own denim garments to modify and beautify (or pick from a rack The Bentway will have on-site). The workshop culminates in an afternoon Street Fashion Show, with The Bentway as the runway. 
The Block Party is a part of The Bentway's summer 2022 programming, STREET, ​ a ​​series of free art installations, performances, workshops, public conversations, and community celebrations.
To view the full Block Party lineup and scheduling, visit thebentway.ca/street.
---
PRESENTING PARTNERS
The Hilary & Galen Weston Foundation
​Government of Canada
​Ontario Cultural Attractions Fund
BLOCK PARTY PRESENTING SPONSORS
Billy Bishop Toronto City Airport
​The PrEP Clinic
BLOCK PARTY SUPPORTING SPONSORS
Hop Valley Brewing Company
​Beanfield Metroconnect
---
About The Bentway
The Bentway works to ignite the urban imagination, using the city as site, subject, and canvas. Anchored under Toronto's Gardiner Expressway and guiding its complex future, The Bentway is a growing public space, and much more. It is a new type of civic organization: an independent charity and a not-for-profit, powered by vital partnerships with the City of Toronto, residents, supporters, artists, creatives, city-builders, and dreamers. The Bentway is a catalyst rooted in experimentation, demonstration, and regeneration; leading a creative movement to re-imagine the opportunities of urban spaces.
Since Phase 1 of The Bentway – under the Gardiner from Strachan Ave to Fort York Blvd – opened in 2018, it has proven to be a vital public space, backyard park, cultural platform, connector for the western Waterfront corridor and a demonstration of what is possible. In partnership with the City of Toronto, The Bentway is creating a network of public spaces, developing a cohesive vision for wayfinding and reconnecting the waterfront to the downtown core
Visit thebentway.ca and follow @thebentway on Twitter, Facebook, YouTube and Instagram for details about upcoming programming and projects.
---
For media inquiries, please contact: