THIS SUMMER, THE BENTWAY TAKES ON THE 'STREET'
Announcing a Summer 2022 season that invites audiences to see the street anew.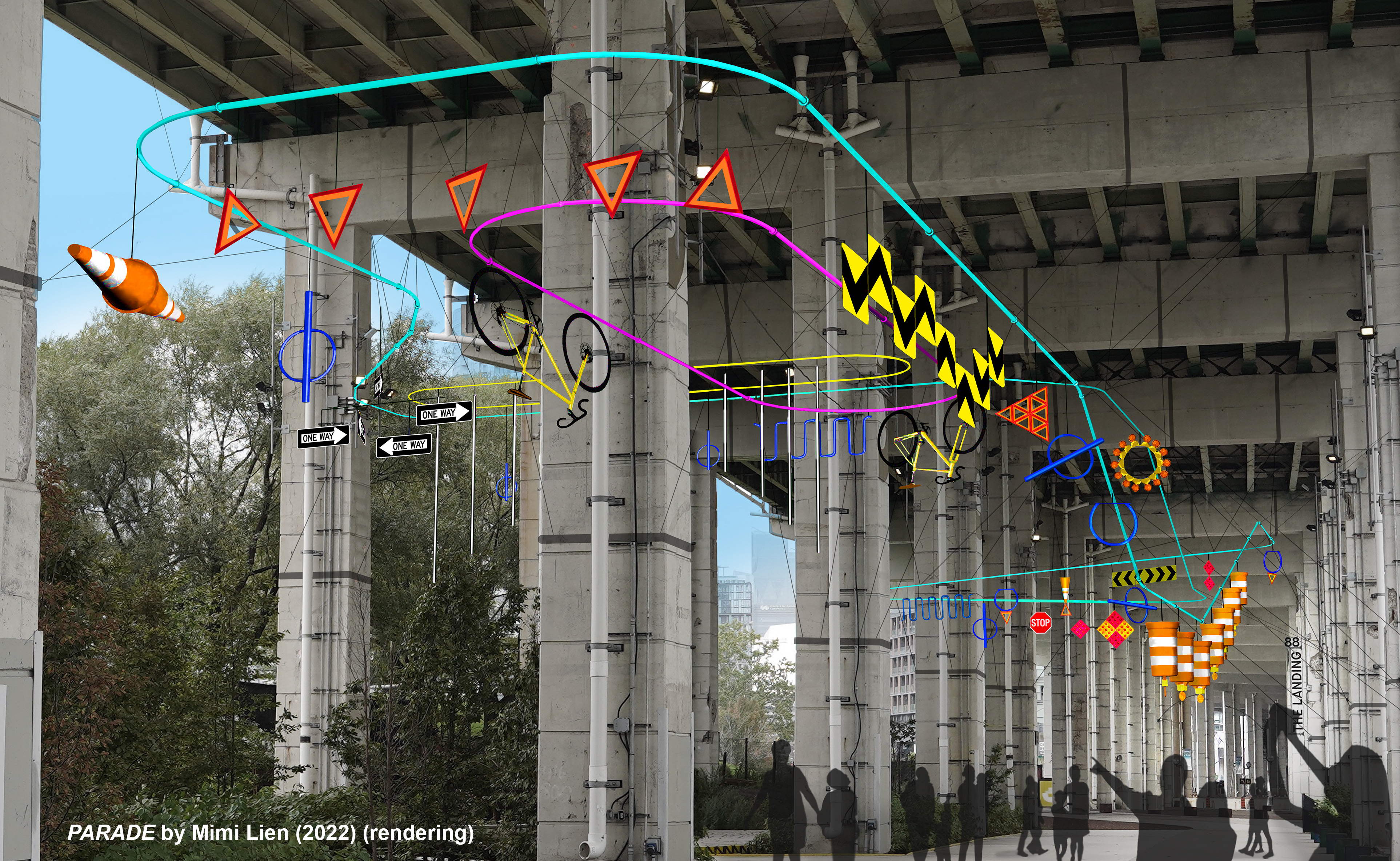 March 22, 2022 [Toronto/Tkaronto, ON] - Today The Bentway announced its Summer 2022 season, STREET: a constellation of free art installations, roving performances, conversations and celebrations that play out on our shared roadways, sidewalks, and public spaces.
The pandemic prompted cities around the world to reconsider the role of their streets. These familiar routes, previously reserved for vehicles, became sites for renewed improvisation, innovation, and action. We questioned what these spaces could do, and even the complex histories their names hold. We asked, how will we learn from, and take to, the street? How have our streets changed, and where will we take them next? Together, we were reminded why streets are the city's "most vital organs."
Running May 26 to August 21, STREET brings together artists, urban planners, educators and changemakers from Canada and beyond, inviting the public to see the streets of Toronto anew - both under the Gardiner and beyond.
"The Bentway was founded on the idea that the street is not only a path from point A to point B, but a destination in its own right," says Anna Gallagher-Ross, Senior Manager of Programming at The Bentway. "Streets are where the city converges, through activities both spontaneous and planned. They are a place to see and be seen; a soapbox, a stage, a courtroom, a runway, a playground, and so much more. As Toronto celebrates its Year of Public Art, this felt like an important moment to challenge conventions of the street, and conventional notions of 'street art.'"
---
The STREET line-up of free programming includes the following projects and events, with more to come:
PUBLIC ART INSTALLATIONS
PARADE by Mimi Lien (New York, USA) - May 26 to August 21
Award-winning designer and MacArthur Genius grantee Mimi Lien presents a kinetic installation that infuses The Bentway with the ever-shifting variables of the street. A motorised conveyor-belt, suspended high above under the Gardiner Expressway, becomes an energetic artery carrying everyday objects we might encounter on our morning commute, that march through the space in a celebratory procession.
Weweni Bizindan (Listen Carefully) by Ogimaa Mikana Project (Tkaronto, Canada) - May 26 ​ to August 21
Continuing their practice of re-installing Anishinaabe place-names throughout the roads, highways, trails and paths of Toronto, the Ogimaa Mikana Project (Susan Blight and Hayden King) offers a new dialogue with the street. Amid the concrete, traffic, and winds of the Gardiner, King and Blight, listen and respond to the sounds of Anishinaabe life.
Moko Jumbie Mas Camp by Michael Lee Poy (Maracas St. Joseph, Trinidad & Tobago; Toronto, Canada) - May 26 to July 24
In celebration of Carnival's long relationship with the streets of Toronto, artist, educator, designer and architect Michael Lee Poy leads a team of artists to transform The Bentway Studio into a Moko Jumbie Mas Camp, offering free workshops for young people in stilt-walking, costume-making and more, culminating in a community parade centering balance, regalia, joy and emancipation.
a wandering by the Reconstructions of Home Curatorial Collective (Toronto, Canada) - April 14 to August 21
Following the year-long collaboration between The Bentway and SKETCH Working Arts, the Reconstructions of Home public art project continues with an audio-visual tour, presenting a series of perspectives on street culture, and lived experiences of homelessness and houselessness.
ROVING PERFORMANCES
Bodies in Urban Spaces by Willi Dorner (Vienna, Austria) - May 26-28
In choreographer Willi Dorner's iconic performance, a colourfully-clad group of local dancers lead a breathtaking tour through Toronto's streets, using their bodies to explore and respond to urban architecture. Audiences join in - on the run - as performers entangle with one another and the unique in-between spaces of our city, asking us to reflect on our relationship to public space, and who and what it is for.
WEEPING CONCRETE by Hazel Meyer (Vancouver, Canada) - June 11-12
In a growing city such as Toronto, scaffolds are a ubiquitous feature of the urban environment. This site-specific project by Hazel Meyer engages a trio of performers across two towering scaffolds, prompting us to reflect on the streets as we know them, as well as imagining what they might become.
And With by Germaine Liu with soundscape design by Mark Zurawinski (Toronto, Canada) - June 25-26
And With is a sound procession featuring multiple percussionists, vocalists, a mobile soundscape, and a "Wizard" that travels along The Bentway and surrounding neighbourhoods. Join scenario-maker Germaine Liu and sound designer Mark Zurawinski on a journey to experience the sounds, textures and chorus of the rumbling urban artery of the Gardiner corridor like never before.
Nightwalks with Teenagers by Mammalian Diving Reflex / Darren O'Donnell (Toronto, Canada) - July 14-16
Mammalian Diving Reflex, along with a group of local teens, invites you to 'walk on the wild side' after sundown, and to experience the streets, alleys and secret urban spaces around The Bentway from their point of view. 
Moko Jumbie Parade by Michael Lee Poy (Maracas St. Joseph, Trinidad & Tobago; Toronto, Canada) - July 17
Join Michael Lee Poy, the Moko Jumbie Mas Camp artists, camp participants, and their families for a jubilant community Carnival parade centering balance, regalia, joy and emancipation - travelling along the sidewalk around Canoe Landing Park.
CONVERSATIONS & CELEBRATIONS
The Street Summit - May 27 & 28
Equal parts conference, workshop, artistic intervention and celebration, this free public event assembles citizens, urbanists, designers, researchers, city-builders and artists alike to consider how we can challenge traditional understandings of city streets and create a more inclusive, equitable - and joyful - public realm.
The Bentway Block Party - August 14
The Bentway Block Party is back! Join us for a celebratory street party across The Bentway site, featuring performances, music, street food and drink, family-friendly workshops, fashion shows and more. 
 Come join The Bentway at street level this summer.
---
PRESENTING PARTNERS:
The Hilary & Galen Weston Foundation; Government of Canada; City of Toronto
SUPPORTERS:
Barbara & Dougal Macdonald; Eleanor & Francis Shen; Canada Council for the Arts; Concord Adex, Billy Bishop Toronto City Airport; Ontario Arts Council; Beanfield Metroconnect and The Bentway's growing family of friends and supporters
SPECIAL THANKS TO:
St. Joseph Communications; Craft Public Relations; Puncture Design
CO-PRESENTERS AND OTHER PARTNERS
ArtworxTO: Toronto's Year of Public Art 2021–2022; Austrian Federal Ministry for Arts, Culture, Civil Service and Sports; British Council; Cultural Office of the City of Vienna (Kulturamt der Stadt Wien); Farnham Maltings; Festival "Quartier d'été"/Paris; SKETCH Working Arts; The High Commission of Canada in the UK via the New Conversations Fund and Arts Council England; and Toronto Arts Council.
---
For media inquiries, please contact: