NEW PUBLIC ART PROJECT BY THE BENTWAY REMINDS US "IT'S ALL RIGHT NOW"
The Bentway launches a city-wide, multi-artist public art project and invites Torontonians to help build a collective time capsule of life during COVID-19.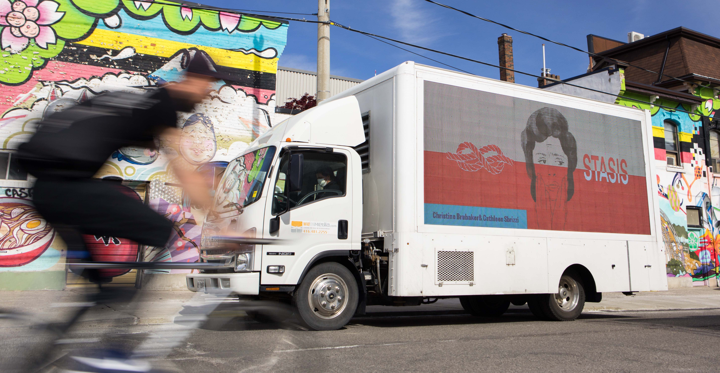 May 25, 2020 - [Toronto, ON] - The Bentway, the innovative public space project beneath Toronto's Gardiner Expressway, today announced a new public art initiative inviting Torontonians to explore and capture their complex reactions to the COVID-19 crisis. It's All Right Now will run beginning May 25 and into the summer.
More than twenty Toronto-based artists, including Bekah Brown, Tessar Lo, Max Dean, Quentin VerCetty, Hiba Abdallah, Poet Laureate Albert Moritz with son Blaise Moritz, and artist collective Younger Than Beyoncé, have been commissioned by The Bentway to create works that explore the range of emotions and perspectives being faced at the present moment: hopeful, fearful, forward-looking, contemplative, etc. The artists' works will use the city itself as a canvas, appearing across generously-donated digital billboard and wild-posting spaces; on streets, civic landmarks, along the Gardiner and Waterfront; as well as online at www.ItsAllRightNow.ca and @thebentway.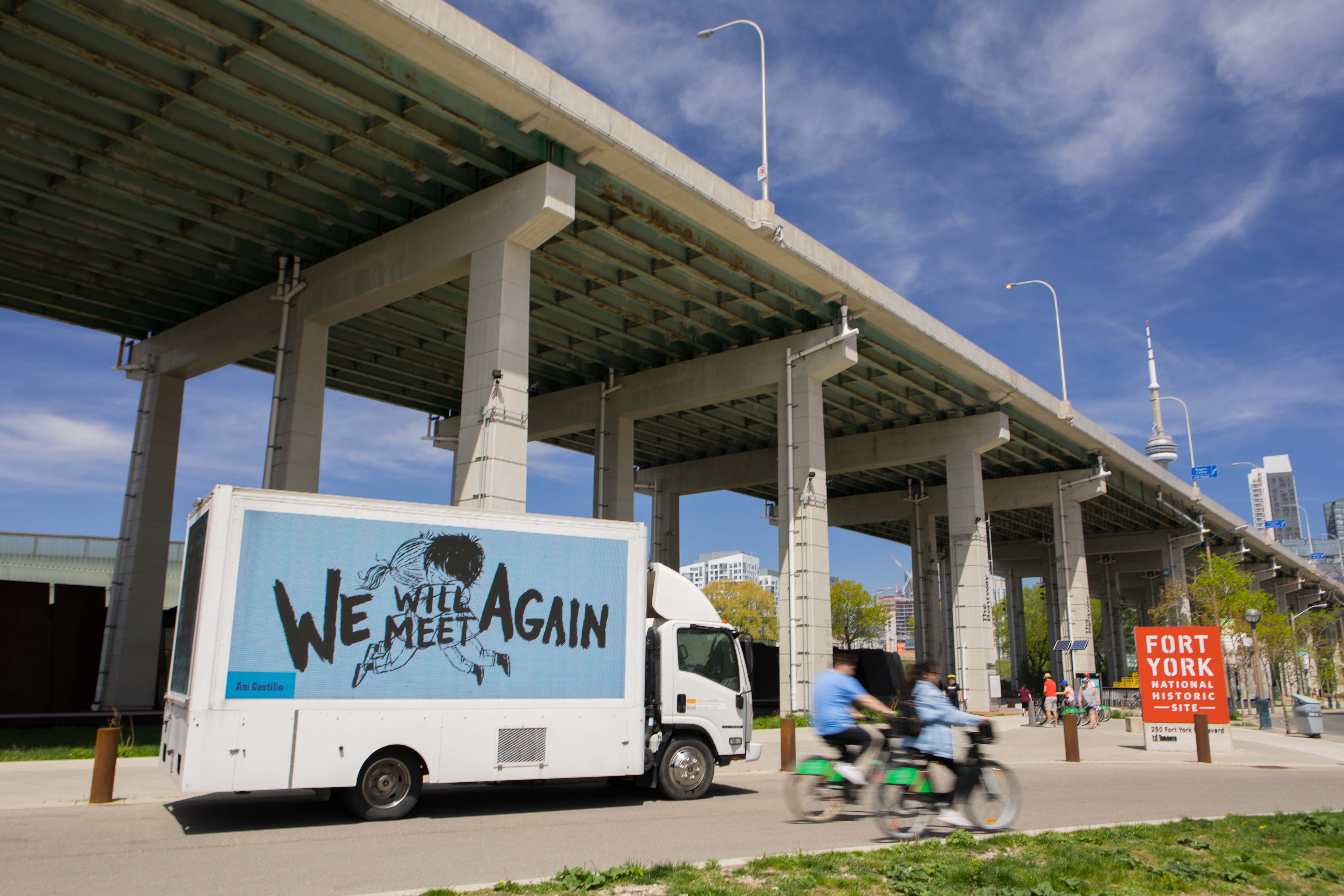 The local artists were each asked to respond to a simple inquiry: What words are you living by, right now? The artists then created powerful textual responses in their own visual styles that collectively speak to the diversity of the pandemic experiences and sentiments felt throughout the city.
Ultimately, the project invites Torontonians into a larger collective dialogue, perhaps even catharsis. It's All Right Now engages the arts community, but also aims to co-create a time capsule of the current moment with residents, no matter whether they're feeling "all right" or just feeling it "all, right now". The Bentway is encouraging Torontonians to participate in the project by creating their own response that can be shared in a few ways: via social media using the hashtag #ItsAllRightNow, by emailing digital works to [email protected], or by mailing hand-drawn responses to The Bentway's head office. Instagram Story templates will be provided by The Bentway, as well as a printable PDF found on the project's landing page, to help guide the works of art. Collected submissions will be unveiled in a public presentation in 2021, much like an actual time capsule, recollecting Toronto's psyche "right now" during this unprecedented moment in history.
It's All Right Now is co-presented by The Bentway and creative agency Cossette; with Presenting Partner, the Waterfront Business Improvement Association (BIA); and a network of supporters including Cossette Media for media placement, Astral Media, PATTISON Outdoor, OUTFRONT Media, Branded Cities, Grassroots Advertising, Hivestack, Barbara and Dougal Macdonald, Whitman Emorson, and Craft PR.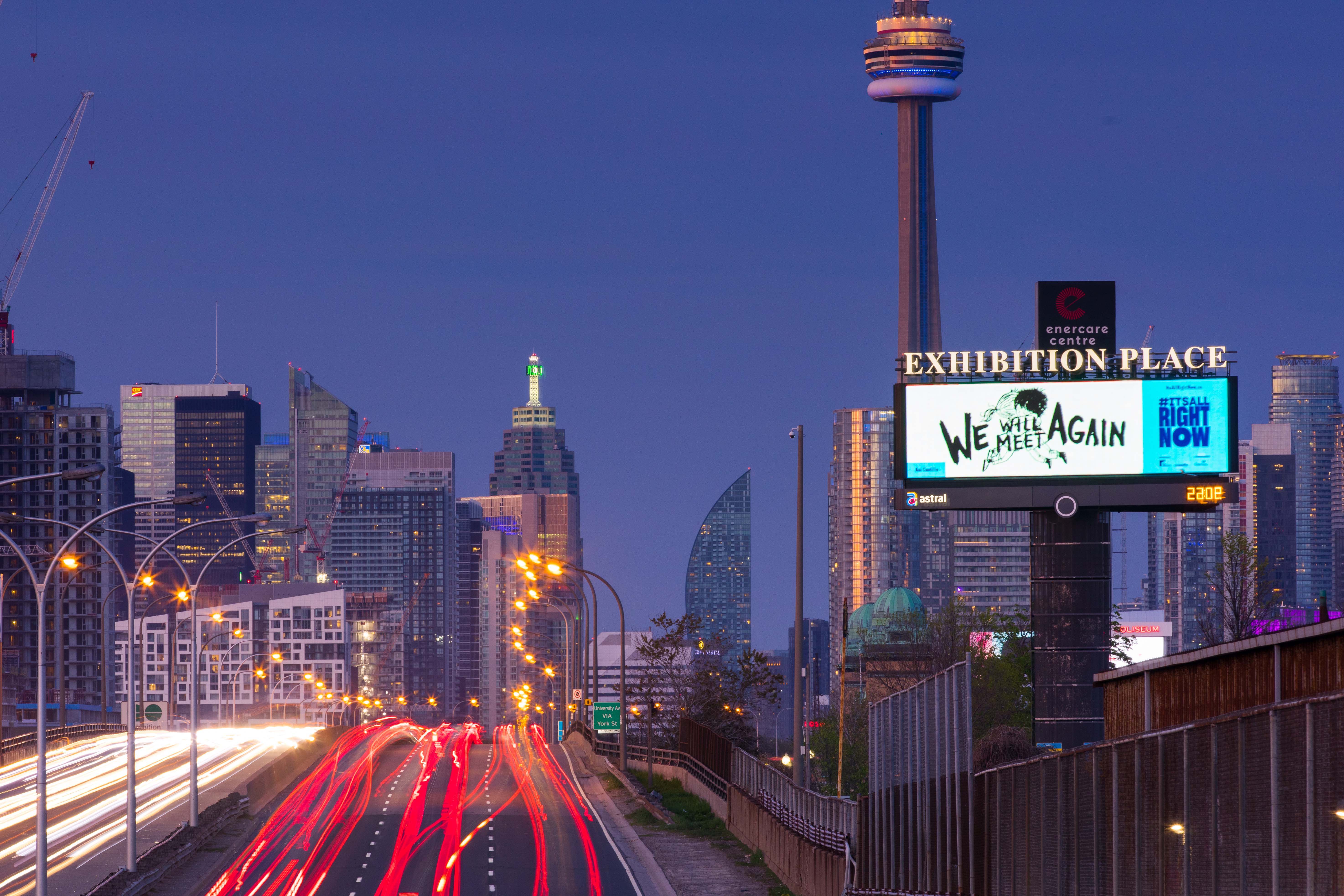 It's All Right Now will come to life in the city in the following ways:
Starting today, artwork will be displayed across the city on digital billboards (including along the Gardiner Expressway and at Yonge-Dundas Square) - May 25 - June 20, 2020
A video truck featuring the artworks will circle Toronto's Waterfront and neighbouring communities on select weekends (routes will be posted on ItsAllRightNow.ca) - May 30, and 31; June 6 and 7, 2020
Starting June 1, more artist work will unfold around the city, including wild postings at 50 locations and additional pop-up spots along the Waterfront - June 1-21, 2020
The project will culminate with an installation at The Bentway (running along Fort York Blvd. west of Bathurst St.) and at other pedestrian Waterfront-adjacent crossings under the Gardiner, later this summer when public health guidelines permit onsite work - Timing TBD
Beginning today, the public can submit their works of art to The Bentway - May 25 - June 30, 2020
​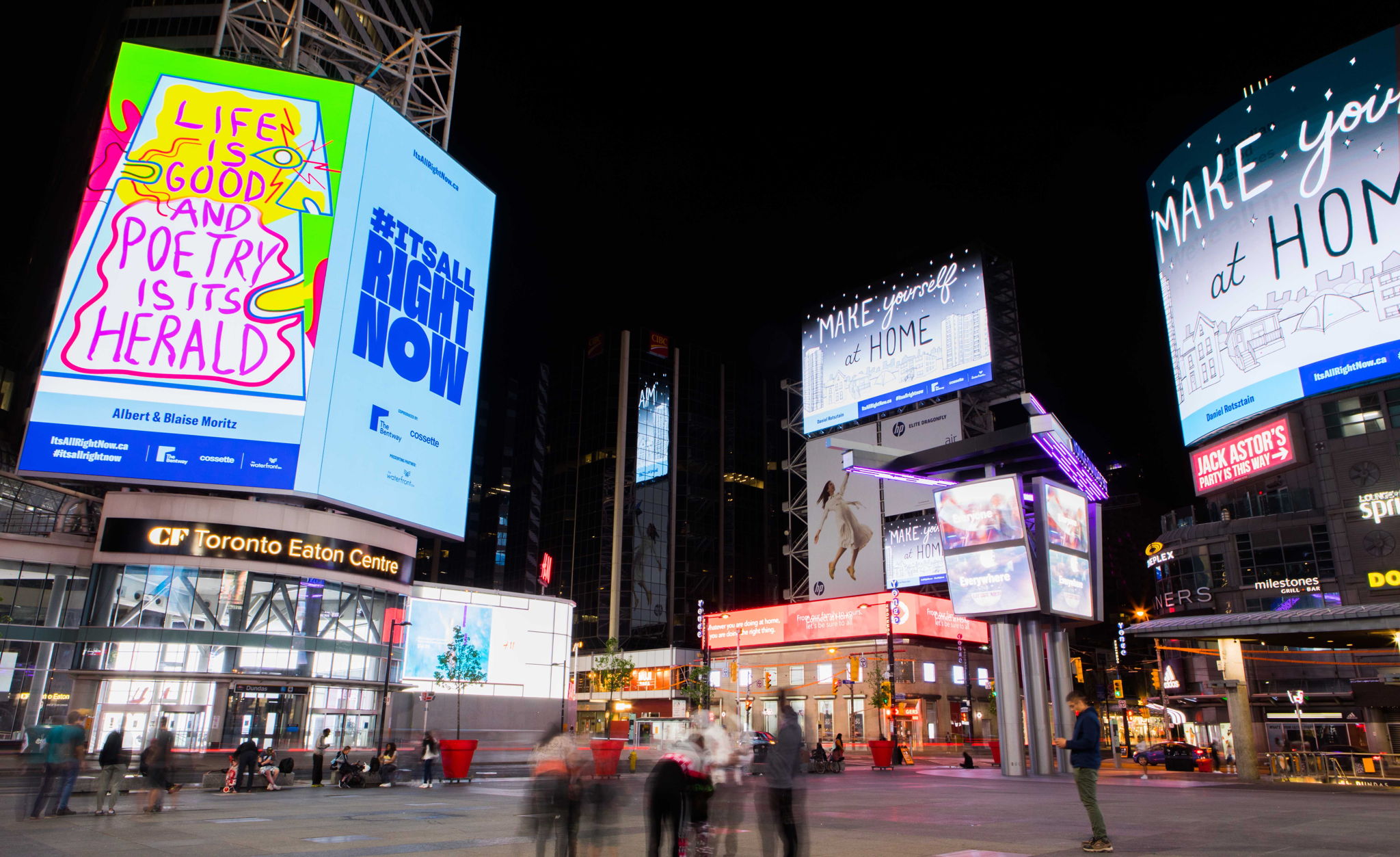 "Public art is powerful," says Ilana Altman, Co-Executive Director at The Bentway. "In the best of times it brings people together for unforgettable experiences, driving civic dialogue and social cohesion. In difficult times like these, when people are struggling to feel connected, public art is more important than ever. While we're unable to convene together in person, we wanted to empower Toronto's artists to use the city's screens, streets, walls, and windows as their canvas and ensure that the dominant sentiments in the public sphere reflect the multiplicity of experiences throughout our city."
"Going under the Gardiner Expressway acts as a 'front door' to Toronto's waterfront and our goal is to work with others to improve that experience," says Tim Kocur, Executive Director of the Waterfront BIA. "The Bentway is the leader of a new vision that the Gardiner experience can be more inspiration than industrial. With this project, we are beyond excited to see the artists' work and The Bentway's spirit spread in distance-friendly ways over more of downtown and the waterfront."
All It's All Right Now art will be installed with the utmost safety precautions in place, in compliance with the guidelines issued by the Chief Public Health Officer and the governments of Canada and Ontario, including physical distancing. People are asked to enjoy the works safely. ​
​
Participating Artists
Hiba Abdallah
Dan Bergeron
Bekah Brown
Christine Brubaker and Cathleen Sbrizzi
Ani Castillo (as nominated by Workman Arts)
Max Dean and Andrew Savery-Whiteway
Anahita Dehbonehie (as nominated by Outside the March)
Bruce Horak (as nominated by Tangled Art + Disability)
Will Kwan
La-Vane Kelly (as nominated by SKETCH Working Arts)
Ness Lee
Tessar Lo
Sean Martindale
Hazel Meyer
Shawn Micallef
Anne Michaels
Peter Morin
Poet Laureate Albert Moritz with son Blaise Moritz
Daniel Rotsztain
Quentin VerCetty
Younger Than Beyoncé
Others TBC
For more information about the growing list of contributors and details on It's All Right Now, visit ItsAllRightNow.ca.
---
DOWNLOAD HIGH-RES IMAGES:
---
The Bentway is supported by the City of Toronto, Maxine Granovsky Gluskin & Ira Gluskin, Richard M. Ivey, Frances & Tim Price, Rosamond Ivey, Mazyar Mortazavi & Bita Doagoo, Howard Sokolowski & Linda Frum, Donald K. Johnson O.C. & Anna McCowan-Johnson, DiamondCorp, and a growing family of friends and supporters.
Social Media: Facebook, Twitter and Instagram using @TheBentway and YouTube
#ItsAllRightNow
 Access to The Bentway is always free | Enjoy free onsite wifi courtesy of Beanfield
 - 30 -
For more information, please contact:
Linda Yahya, Craft Public Relations
​[email protected]
​647.205.4081
​