GRAND OPENING: EXPERIMENTAL GARDENS UNDER THE GARDINER EXPRESSWAY
Bentway Staging Grounds extends The Bentway's footprint eastwards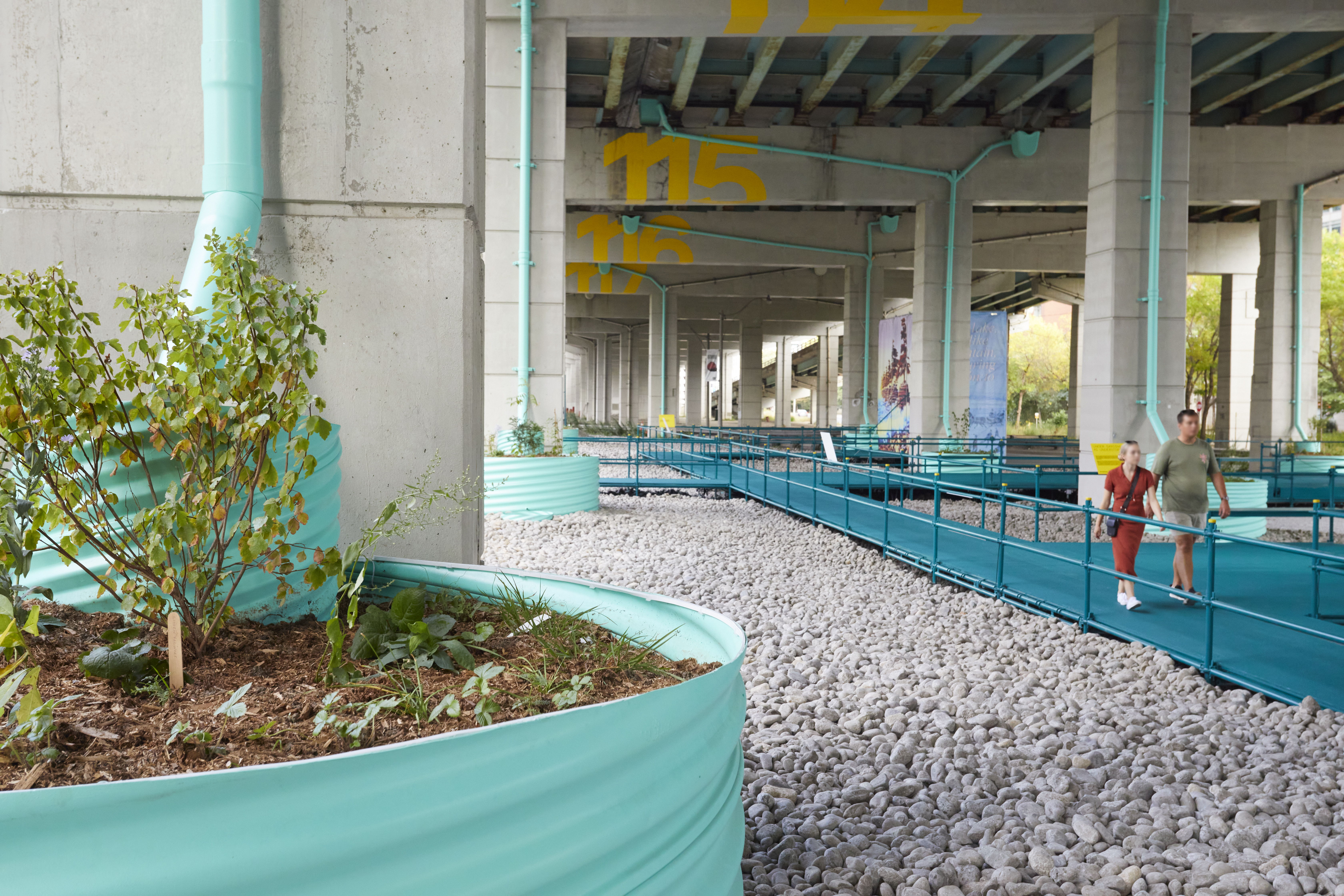 September 18, 2023 - [Toronto, ON] – Continuing its creative work along the Gardiner, today The Bentway unveiled Bentway Staging Grounds, a new offsite project presented under the Expressway at Dan Leckie Way, just south of Canoe Landing Park. A collaborative team led by Tei Carpenter (Agency-Agency, NYC) and Reza Nik (SHEEEP, Toronto) has designed this public meeting place for community, culture, and ecology.
"The Bentway has always believed that the Gardiner can, and must, do more for the city," says Ilana Altman, Co-Director of The Bentway. "At Bentway Staging Grounds, we're both unlocking a new temporary public space under the Expressway, and discovering new strategies for water filtration and planting that could one day be applied across its length."
Open now, Bentway Staging Grounds acts as a living laboratory. The Bentway worked with the design team and engineers Buro Happold to redeploy the Gardiner's downspout drainage system, redirecting rainwater runoff through natural filtration chambers to feed experimental gardens. Isaac Crosby (also known as "Brother Nature"), a local Afro-Indigenous (Ojibwe) horticultural expert, helped select native plant species (like milkweed, agastache, and yarrow) that will absorb pollutants like salt and heavy metals, helping to remediate excess water. Colourful didactic signage and onsite branding was designed by Neil Donnelly Studio.
Visitors are invited to explore the project through a network of walkways and built-in benches, raised over the site's existing bed of river rocks. 
"It's a privilege working with The Bentway on Staging Grounds to think creatively about the city's infrastructure and to center the design of water in the public's daily experience," says Tei Carpenter of Agency—Agency. Notes Reza Nik of SHEEEP:, "We're really excited to share this project with the city and to see how an underutilized part of our infrastructure can be actively and passively used throughout the year."
"Through our Impact Agenda, Manulife is committed to empowering sustained health and well-being to support the journey towards a better life, as well as accelerating a sustainable future to preserve the planet we all share," says Tom Crohan, Global Head of Community Investment at Manulife, a key supporter of the project. "We recognize the link between our environment, human health, and the well-being of our communities and are proud to partner with The Bentway on this initiative to unlock city spaces for urban health."
A series of 20-foot tall "art towers" provide visual and acoustic buffers from the adjacent active street, Lake Shore Boulevard. Toronto-based artist Logan MacDonald presents the first in a series of artworks commissioned for the towers, with his piece Fountain Monumental – a reflection on the site's relationship with water, creatively collaborating with digital tools to challenge the notion of historical accuracy and authorship. MacDonald's canvases prompt us to imagine a decolonial future and what the ancient shoreline of Lake Ontario might look like today if it had been preserved differently.
Further details
Bentway Staging Grounds is presented in a previously-vacant 20,000 sq ft space at Dan Leckie Way and Lake Shore Boulevard, two blocks east of The Bentway's iconic Skate Trail and just steps from the waterfront.
Vacant site at Dan Leckie Way, before the project's installation (Jack Landau, courtesy of The Bentway)
This project, as well as recent Bentway-led interventions at York Street and Simcoe Street, will help inform both the development of future Bentway spaces under the Gardiner, as well as continued opportunities along the Expressway corridor.
Bentway Staging Grounds is an interim intervention that will remain in place until the City of Toronto's Gardiner Expressway Rehabilitation work commences in the area (currently scheduled for late 2025). Nearly all elements of Staging Grounds were selected for ability to be repurposed after the project's completion.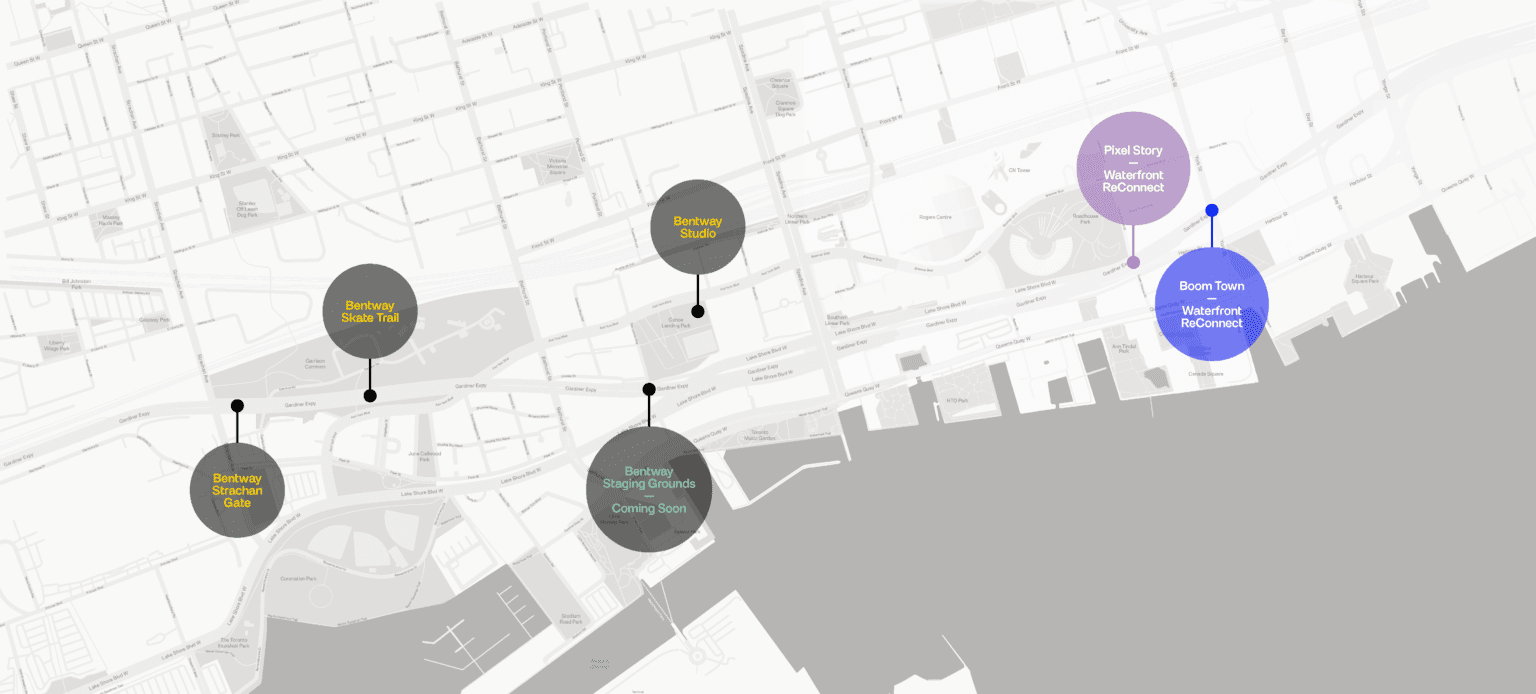 Bentway Staging Grounds, noted in context of other Bentway sites and projects, including Waterfront ReConnect.
Bentway Staging Grounds is supported by:
Manulife
Waterfront Business Improvement Area (BIA)
Anonymous [2]
CityPlace and Fort York BIA
Maxine Granovsky Gluskin and Ira Gluskin
+ The Bentway's growing family of friends and supporters
Special thanks to the City of Toronto.
About the design team leads 
Design Team: Tei Carpenter, Jake Rosenwald and Tanya Maneeintr
Agency—Agency is a New York City based architectural design studio led by Tei Carpenter. The studio's work focuses on cultural and public projects of various scales, including environments, infrastructure, buildings, and exhibitions. It has been featured in publications such as Domus and PIN-UP and was honored with the 2018 AIA New Practices award and the League Prize in 2021. Clients include A/D/O BMW Mini, the Carnegie Museum of Art, and Columbia University. Currently, Tei is a Critic at the Yale School of Architecture.
Design Team: Reza Nik, Connor Stevens, Sam Shahsavani 
SHEEEP is a Toronto-based experimental art and architecture studio led by Reza Nik. 
About the featured artist
Logan MacDonald is a mid-career Toronto-based interdisciplinary visual artist, curator, educator, and activist who focuses on queer, disability, and Indigenous perspectives. He is of European and Mi'kmaq ancestry, who identifies with both his settler and Indigenous roots. Born in Summerside, Prince Edward Island, his Mi'kmaq ancestry is connected maternally to Elmastukwek, Ktaqamkuk. His artwork has exhibited across North America, notably with exhibitions at L.A.C.E. (Los Angeles) John Connelly Presents (New York), Dunlop (Regina), The Rooms (St. John's), BACA (Montréal), and the Künstlerhaus Bethanien (Berlin). He is an Assistant Professor in Studio Arts at the University of Waterloo.