Family Day at The Bentway Skate Trail
Celebrate Family Day 2023 at The Bentway with fun indoor and outdoor activities, warm food, and family-friendly programming.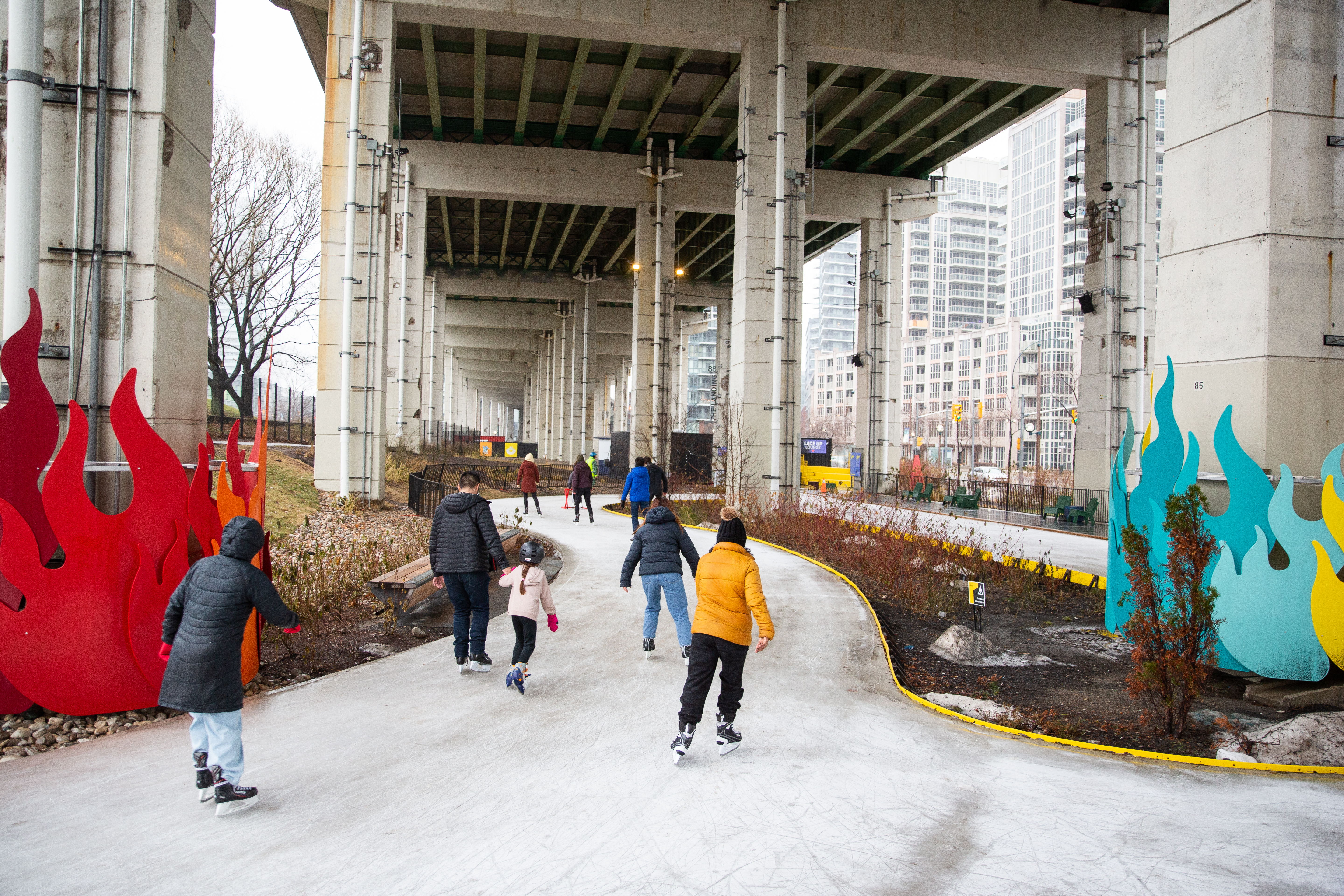 WHAT: ​ ​ ​ ​ ​ Family Day activities at The Bentway
WHEN: ​ ​ ​ ​ ​ Monday, February 20, 2023 from 12:00 - 9:00 p.m.
WHERE: ​ ​ ​ The Bentway Skate Trail, 250 Fort York Blvd.
---
FAMILY DAY PROGRAMMING
This Family Day, everyone is welcome at The Bentway for family-friendly indoor and outdoor activities all afternoon long. Family Day programming includes:
DJ SKATE PARTY - 12:00 - 9:00 p.m.
Experience The Bentway's unique figure-eight skate trail while enjoying the bopping beats of some of Toronto's most exciting DJs. The DJ lineup includes LL Cool Wei, Sikh Knowledge, and DJ Buncha.
INTERACTIVE SCAVENGER HUNT BY ROSENA FUNG - 12:00 p.m.
Explore the onsite festivities with a fun and fully original scavenger hunt map. Beautifully illustrated by local artist Rosena Fung, this interactive activity will take you on a journey through The Bentway to collect stamps which you can redeem for a free hot chocolate.
Please note that this is a self-guided activity with a limited print run, so please aim to arrive early if you would like to participate! You can pick up a map from our friendly staff at Skate Rentals.
FAMILY FUN WORKSHOP WITH KIDS CODING - 12:00 - 5:00 p.m.
Want to take a break from skating and warm up indoors? The Bentway is excited to be teaming up with our CityPlace neighbours at Kids Coding to offer a free family-friendly workshop that celebrates the holiday, combining the principles of STEM learning with creative play. This 10 minute "build your own" activity is drop-in friendly and will be offered indoors in the Fort York Visitor Centre, located by The Bentway Skate Trail.
Please note that parents and/or guardians must accompany children under the age of 16 at all times. Workshop materials may include the use of scissors, hot glue guns, and staples.
---
FOOD & DRINK
Mr and Mrs Bao
BeaverTails Food Truck
Bentway Concessions
PARTNERS
About Rosena Fung ​
​Rosena Fung grew up and is based in Toronto, Canada. Her first graphic novel Living With Viola is published by Annick Press. Her editorial clients include The Globe and Mail, The Boston Globe, Chronicle Review of Higher Education, CBC Arts, and the Toronto Transit Commission. When she is not drawing, Rosena can be found teaching illustration, vending at zine fairs, and going to the library. Her favourite activities are reading, eating snacks, cats, and learning to play the guitar (Her name is pronounced "Rosanna".) www.rosenafung.com
About Kids Coding ​
​Kids Coding is a high-quality boutique school. Our purpose is to provide accessible and high-quality STEM education to all children by offering hands-on learning. Our curriculum helps young people compete in a technological world, and allows them to develop critical thinking skills that will support them in daily life. ​
​www.kidscoding.ca