EXPLORE 'BEYOND CONCRETE' AT THE BENTWAY THIS SUMMER
The Bentway's summer programming dives into the Gardiner Expressway's unique urban ecosystem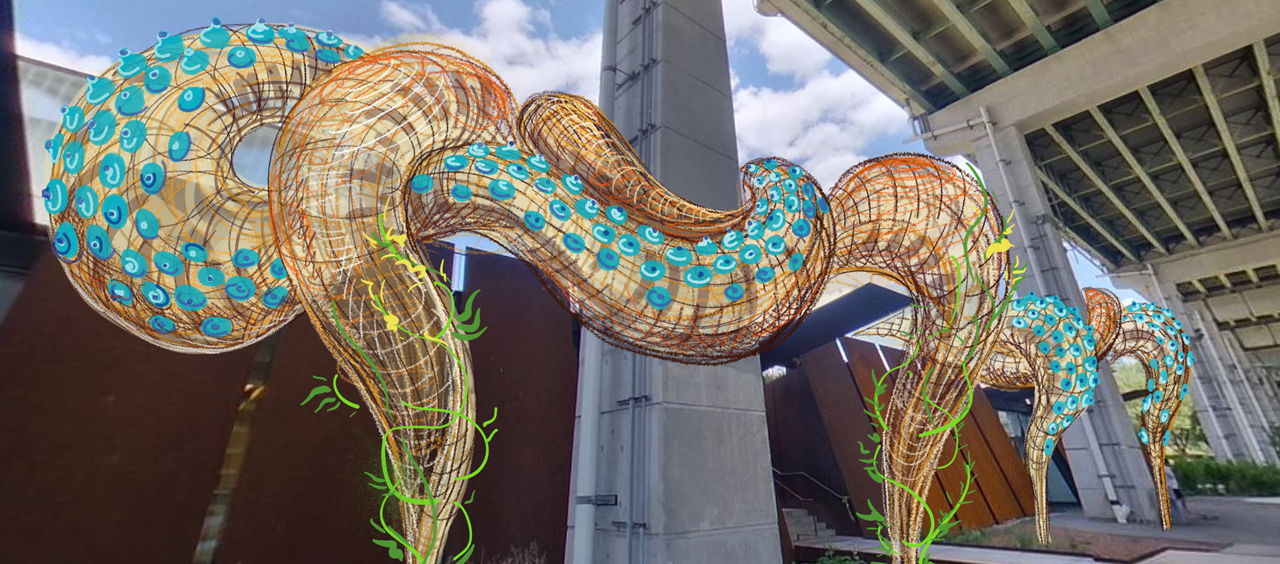 April 18, 2023 [Toronto, ON] - Today, The Bentway announced its Summer 2023 season, Beyond Concrete, presented under the Gardiner Expressway, running from May 26 to September 24.
As Toronto wrestles with important questions about the Expressway and its future, The Bentway invites the city to dive "beyond the concrete" and explore the nature of the Gardiner. Visitors will discover a thriving urban ecosystem beneath the highway, where human-made infrastructure intertwines with resilient flora and fauna, growing in spite of, and because of, the concrete.
"The Gardiner is so much more than the concrete, traffic, and debates we've become used to (in fact The Bentway has already helped reveal that)," says Anna Gallagher-Ross, Senior Manager of Programming at The Bentway. "We're excited to be working with artists from Toronto and around the world to consider, in the midst of a rapidly changing climate, the ways in which urban nature and the built environment can co-exist, entangle, even collaborate."
Beyond Concrete includes a collection of artworks, performances, parties, and conversations, including the first North American commission by Filipino artist Leeroy New; the North American premiere of Brazilian choreographer Clarice Lima; new and existing works from Torontonian artists Alex Sheriff, Lisa Jackson, Public Visualization Lab/Studio; a vibrant Opening Night Party on Friday, May 26; and an array of free talks, tours, and workshops. 
The Bentway's popular al fresco dining experience, Communal Table, and Roller Skating with SUSO Skate, also return. 
Details about Beyond Concrete, including RSVPs and tickets to opening weekend events, are now available at thebentway.ca. A detailed breakdown of Beyond Concrete events, installations and programming is available below. 
---
FULL PROGRAM DETAILS:
OPENING WEEKEND
(Tickets and registration to Opening Weekend events are now open at thebentway.ca)
Beyond Concrete Opening Party - $20 Tickets
​May 26, 7pm-11pm
Join artists, architects, botanists, designers, and neighbours in celebrating the opening of Beyond Concrete at a fabulous kick-off party on May 26. The evening culminates with an energetic appearance by Leeroy New's The Aliens of Manila (choreographed by Toronto's own Danah Rosales). A $20 ticket to the Opening Party (which includes one free drink) helps keep other Beyond Concrete programming free for everyone!
Woods by Clarice Lima (São Paulo, Brazil); Catarina Saraiva (Coimbra, Portugal); Aline Bonamin (São Paulo, Brazil); Nina Fajidiga (Ljubljana, Slovenia) - FREE
​May 27 and May 28, 1:30pm and 3:30pm
A forest of upside-down human bodies grows out of the concrete, set against Toronto's high-rise horizon. In WOODS, performers' bodies struggle to maintain their verticality, calling attention to the struggle faced by nature itself: How long can the body resist? How long can our forests survive? What happens when their time - and ours - runs out? WOODS features a crowdsourced cast of 40 local residents pushing their bodies and head-standing skills in a unique public performance. 
Opening Weekend Talks, Tours, and Workshops - FREE
Collaborating with the Land: The Material Practices of Leeroy New and Genesis Báez
​May 27, 12pm
Join leading artists from Beyond Concrete in a discussion around the materials used for their pieces. Presented in partnership with Scotiabank CONTACT Photography Festival and DesignTO.
Interspecies City: Hearing and Seeing The City from a Non-Human Perspective
​May 28, 12pm
Leading artists from Beyond Concrete are joined by local practitioners to discuss their projects, which explore the city from the perspective of non-humans. Presented in partnership with Doors Open Toronto.
City Sketching Workshops May 27 and May 28, 2:15pm
Join Toronto Artist and Architect, Julie Ourceau, who will lead a number of hands-on field drawing activities around the Gardiner.
Curator's Tours
​May 27 and May 28, 2:30pm
Take a tour of the Beyond Concrete season exhibition, guided by Bentway curators Anna Gallagher-Ross (Senior Manager, Programming) and Alex Rand (Manager, Programming). 
ARTIST INSTALLATIONS
On view from May 26 to September 24 - FREE
Participating artists unearth the unexpected relationship between waste and nature along the Gardiner, drawing inspiration from the history of discarded materials used as landfill to create the solid ground where the highway now sits; experiment with new interspecies meeting points (for humans, birds, and insects alike); animate the site's natural wildlife (both real and imagined); and collaborate with wind, plastic, soil, and more.
Balete Bulate Bituka by Leeroy New (Manila, Philippines)
An otherworldly creature germinates at The Bentway, its parasitic tentacles emerging from the history of waste materials used as landfill to create the solid ground where the Gardiner now sits. Woven together with bamboo, living plants, and hundreds of locally-sourced discarded plastics, Leeroy New's first North American commission presents nature reasserting itself amidst our concrete infrastructure. Co-presented with Fort York National Historic Site and the City of Toronto.
Multispecies Lounge by Double Happiness (Buffalo, USA and Austin, USA)
At The Bentway Studio facing Canoe Landing Park (55 Fort York Blvd), a new set of public furniture invites interspecies-encounters with urban wildlife. Through UV-painted details, the piece offers glimpses of how birds and insects see beyond the human eye and offers a more-than-human lens through which to experience the urban ecosystem.
Groundcover by Genesis Báez (New York, USA)
Photographer Genesis Báez co-creates with the soil and stormwater below the Gardiner, burying film underground beneath the highway to absorb the surrounding landscape. Developing and displaying the images at large-scale reveals the reciprocal nature of the Expressway and its ecology. Co-presented with the Scotiabank CONTACT Photography Festival.
Atmospheres by Public Visualization Lab/Studio (Toronto, Canada)
What can the wind teach us about our city's infrastructure and our own needs for comfort? Atmospheres manifests this powerful force into a series of soaring soft sculptures, sound, and video that both generates and visualizes environmental data collected under the Gardiner.
Lichen by Lisa Jackson (Aamjiwnaang First Nation; Tkaronto, Canada)
Remarkable, powerful, and resilient, "lichen" are ancient and diverse life forms, both an individual and a community. Anishinaabe filmmaker Lisa Jackson re-imagines her acclaimed short film as a multi-media installation and invites us to learn lessons from lichen about the relationship between our environment and each other.
Bentempus Gardinus: A Long-Exposure Ecological Portrait by Alex Sheriff (Toronto, Canada and currently based in New York, USA)
Geometric animal sculptures emerge from the Gardiner, representing species who've made this place their home across time - from prehistoric woolly mammoths to sly modern foxes. Alex Sheriff's speculative new work uncovers each of their stories and reconsiders our own role within natural history.
SUPPORTERS AND PARTNERS
Presenting Partner:
​Balsam Foundation
Supporters:
​Knight Foundation, Canada Council for the Arts, Government of Canada, Maxine Granovsky Gluskin and Ira Gluskin, Mazyar Mortazavi and Bita Doagoo, Hogarth Family Foundation Fund (at Hamilton Community Foundation), and The Bentway's growing family of friends and supporters.
Co-Presenters & Other Partners:
​Fort York National Historic Site, City of Toronto, Scotiabank CONTACT Photography Festival, Luminato Festival Toronto, Toronto Public Library Fort York branch, Art Metropole, Doors Open Toronto, and DesignTO.