Brave Torontonians to strip-down and skate for a good cause at The Bentway's Polar Bear Skate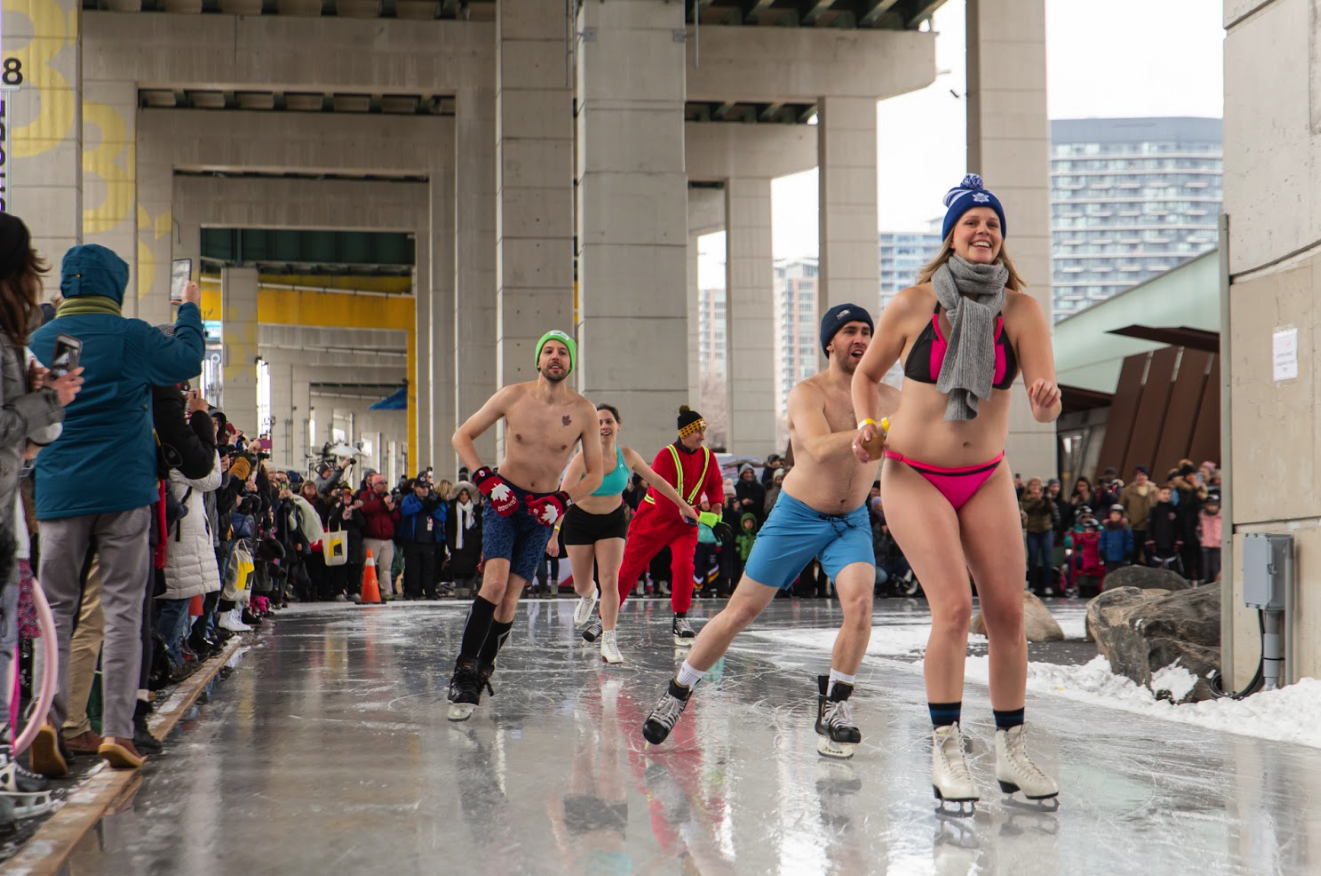 FOR IMMEDIATE RELEASE ​
​Friday, December 30, 2022
WHAT
The Bentway's Polar Bear Skate returns! Brave Torontonians are invited to strip down to their skivvies and skate the trail for a good cause - it's both a clothing drive and a wild way to close out the year.
Donations of warm winter clothing will be collected onsite by New Circles Community Services and distributed to newcomer and refugee families experiencing winter in Toronto for the first time.
WHEN
Saturday, December 31, 2022 at 1:00 p.m.
Participant registration begins at 12:00 p.m.
Event begins at 1:00 p.m. SHARP.
We recommend media arrive no later than 12:45 so you don't miss the camera opp!
WHERE
The Bentway Skate Trail ​
​Located under the Gardiner Expressway, east of Strachan Ave. 
PARKING & TRANSPORTATION:
Green P parking is available under the Gardiner at 250 Fort York Blvd and at 800 Fleet St, just south of Strachan Gate. The nearest TTC stop is 'Strachan Ave at Fleet St North Side', serviced by routes 504 and 363. The nearest bike station is 'Fleet St/Garrison Rd (Fort York)'. ​ ​ ​ 
INTERVIEW/PHOTO OPPORTUNITIES:
Representatives from The Bentway available for on-site interviews. Polar Bear Skate participants will also be on-site. Please note: the event will begin at 1:00 p.m. sharp! We recommend arriving at 12:45 so you don't miss this camera opp.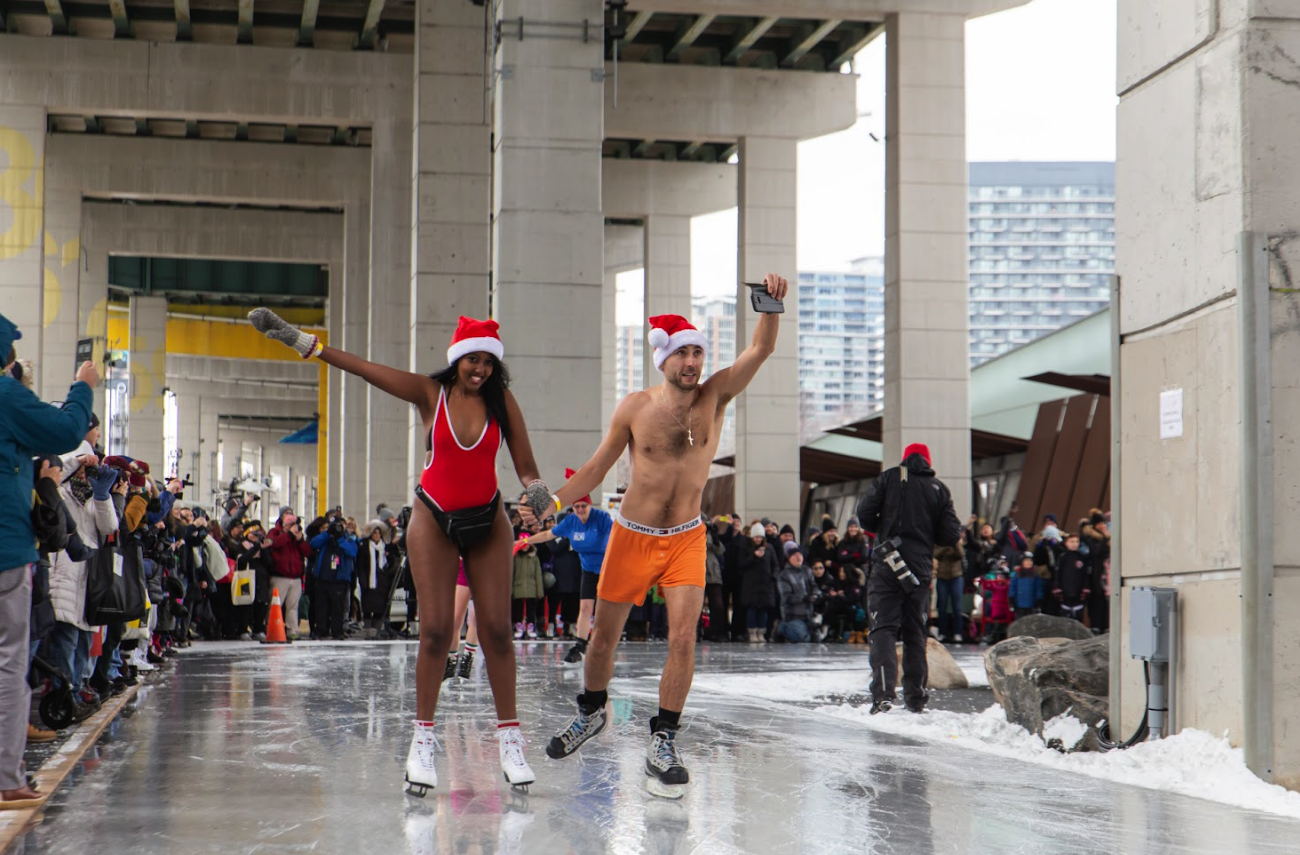 GENERAL WINTER SKATING DETAILS
Over the holidays (December 17 to January 8)
Skating will be open every day from 12pm-9pm, including skate rentals, skate sharpening, and a hot chocolate bar.
After the holidays (January 9 to February 20)
​Skating will be open weekends 12pm-9pm; weekdays 5pm-9pm; holidays and TDSB Elementary P.A. days 12pm-9pm - all including skate rentals and skate sharpening. During this period, the hot chocolate bar will be open Fridays to Mondays only.
Also from January 9 to February 20, visitors can enjoy special treats and offerings:
Billy Bishop Free Rental Fridays - Free skate rentals are available every Friday from 5pm-9pm, courtesy of Billy Bishop Toronto City Airport [starting January 13].
Free Hot Chocolate Mondays - Mondays are date night at The Bentway! Come enjoy your free hot chocolate onsite and explore the neighbourhood, every Monday from 5pm-9pm, courtesy of CityPlace Fort York BIA [starting January 9].
Free Beginner Skate Lessons - Expert instructors will help build essential skills for novice skaters every Tuesday: 5:00pm-6:00pm for children aged 6 to 12, and 6:00pm-7:00pm for those aged over 12 [starting January 10]. Registration for Beginner Skate Lessons opens December 20 at thebentway.ca/skatelessons
-30-
For more information, please contact: